I started writing this article months ago and have finally got around to finishing it.  With Jeff Horn v Tim Tszyu happening next Wednesday, August 26, it's a perfect opportunity for a history lesson into Australian boxing and who is the best boxer in every boxing division, before boxing gets back to some form of normality.
Both male and female fighters will be featured on this list, to really show the wide range of skill and diversity in Australian boxing.
For this list,  I'll go through each division (Atom to Heavyweight) and give details of the best boxer in that division along with other possible contenders for the spot. Boxers can be in multiple divisions but I'll try to avoid it. Considerations are the fighters record, world titles won and successful defences if those titles (if applicable)
With that here are the best boxers Australia has had in each division.
Atomweight  and Light-Flyweight -Louisa Hawton (10-2) years active, 2014- Present, Current Interim WBC Atom Champ, WBO Light-Flyweight World Champion.
Other contenders-Nil
To kick this off, it's a two-time and division world champion and one of Australia's current best female boxers. Western Australian born and bred, Hawton won her first world title in 2016 winning the WBO Light-Flyweight World Title, and in her most recent bout in December 2019 on the undercard to Jermall Charlo v Dennis Hogan, Hawton won her second world title the Interim WBC Atomweight World Title. Although there is no other Australian that I could find that won world titles or even fought at these divisions, there's no denying her achievements. Hawton is due to fight again after the corona virus is contained.
https://boxrec.com/en/proboxer/687473
Flyweight and Super-Flyweight –  Vic Darchinyan.  (43-9-1) years active, 2000-2017. IBF/IBO Flyweight World champion, IBO, WBC/WBA/IBF and Lineal Super-Flyweight World Champion.
Other Contenders- Andrew Moloney (WBA), Susie Ramadan (WIBA)
There is little doubt that Vic Darchinyan has had one of the most successful careers in Australian boxing history. Moving to Australia shortly after the Sydney 2000 Olympics, Darchinyan turned pro in November of 2000 at the Flyweight division.  In 2001 he captured his Australian Flyweight Title and in 2004 earned the IBF and IBO Flyweight World Titles. Darchinyan would hold these titles for two and a half years with five successful defences. After losing the belts in July of 2007, Darchinyan moved up to the Super-Flyweight division and in 2008, became the first undisputed champion in the history of the Super-Flyweight division when he defeated Cristian Mijares for his WBC and WBA Titles to add to Darchinyan's IBF Title, Darchinyan would defend his undisputed status once before moving up to the Bantamweight division.
https://boxrec.com/en/proboxer/42089
Bantamweight – Lionel Rose (42-11), years active -1964 to 1976. WBA/WBC, Ring and Lineal Bantamweight World Champion.
Other Contenders Jeff Fenech (IBF) and Susie Ramadan (IBF, WBC and WBF)
Rose was the first Aboriginal boxer to win a world title and in 1968 challenged WBC,WBA, The Ring and Lineal Bantamweight champ Fighting Harada. After fifteen rounds Rose was given the decision victory. After three successful defences, Rose lost the titles in 1969    and retired in 1976. In 2003 he was inducted into the Australian boxing Hall of Fame and updated to legend status in 2010. He died in 2011 at age 62. Simply the best at Bantamweight.
https://boxrec.com/en/proboxer/11513
Super-Bantamweight– Jeff Fenech (29-3-1) years active, 1984-1996, WBC Super-Bantamweight World Champion.
Other Contenders – Susie Ramadan (WBF)
After being an undefeated IBF Bantamweight champ, Fenech stepped up to the Super-Bantamweight division and earned the WBC Super-Bantamweight World Title. Fenech defeated Samart Payakaroon for his WBC title to become a two-time and division undefeated champion. Fenech held the belt for a year before moving to the Featherweight division in 1988. Fenech conditioning was second to none  and he is arguably our best of all time.
https://boxrec.com/en/proboxer/817
Featherweight – Johnny Famechon (55-5-6) years active, 1961- 1970. WBC Featherweight World Champion.
Other Contenders Jeff Fenech (WBC) and Billy Dib (IBF)
During his career Famechon was an Australian, Commonwealth and WBC Featherweight champ. His two WBC world title fights with Fighting Harada where legendary and  he is always considered in the top ten of all time Australian boxers.
Famechon was inducted into the Sport Australia Hall of Fame in 1985. He was inducted into the World Boxing Hall of Fame in Los Angels in 1997.
https://boxrec.com/en/proboxer/11519
Super-Featherweight– Barry Michael (48-9-3) years active, 1973-1987. IBF Super-Featherweight World Champion.
Others Contenders – Lester Ellis, Robbie Peden (both IBF), Billy Dib, Will Tomlinson (both IBO), Gairy St Clair (IBF/IBO) Diana Prazak (WBC and WIBA) and Lauryn Eagle (WIBA).
As you can see by the number of other contenders, that the Super-Featherweight division is the most successful for men and women, but Barry Michael easily stands above the rest. In of July 1985, at the age of 30, Barry challenged current IBF champ and former sparring partner Lester Ellis for title, in what now is considered the "Fight of the Century" for Aussie boxing. After a hard fought fifteen rounds, Barry was given the decision and went on to defend the belt three times and held it for over two years. After a defeat to the late great Rocky Lockridge, Barry retired and became the face of Australian boxing commentators with Foxtel Mainevent.
https://boxrec.com/en/proboxer/32644
Lightweight – Michael Katsidis (33-8) years active, 2001-2017. Interim WBO Lightweight Champion.
Other Contenders -Erin McGowan (WBO, IBA) Lester Ellis (IBO)
A two-time interim WBO Lightweight champ, Katsidis also earned Australian Lightweight title. Katsidis biggest fight was against Juan  Manuel Marquez, for the WBO and WBA Lightweight Titles (who fought Manny Pacquiao four times). Katsidis knocked down Marquez in the fight, but was knocked out in round 9. Katsidis also competed for the IBO Lightweight title. Katsidis will be known as one of greatest Australian boxers to never win a world title.
https://boxrec.com/en/proboxer/79141
Super-Lightweight– Kostya Tszyu  (31-2) years active, 1992-2005. WBC/WBA/IBF/Ring and Lineal Super-Lightweight World Champion.
Other Contenders- Lester Ellis (IBO)
After moving from Russia to Australia in the early 1990's Kostya debuted in 1992. In 1995 with a record of 13-0, defeated Jake Rodríguez for his first IBF Super-Lightweight World Championship.  After holding the title for over two years, Tszyu lost the title to Vince Phillips. In 1998, Tszyu his second title in the division, the WBC title defeating Miguel Gonzalez for the vacant title. In 2001, Tszyu made history by first defeating WBA champ Sharmba Mitchell in an unification bout, and then in November of 2001 defeated IBF, Ring and Lineal champ Zab Jadah to become the first undisputed champion in 35 years. Not only this his second round knockout of Jadah is still  one of the best knockout  victories in Australian boxing history. Tszyu held on the belts for one year before being stripped of the WBC and WBA belts and in 2005 lost his IBF belt to Ricky Hatton and then retired.
https://boxrec.com/en/proboxer/4388
Welterweight -Jeff Horn (20-2-1) years active,  2013 to present. WBO Welterweight World Champion.
Other Contenders -Lester Ellis (WBF)
There is little doubt that Jeff Horn is the most successful Welterweight Australia has ever had. His 2017 upset win over Manny Pacquiao for the WBO Welterweight World Title, will be forever known as the upset of the 21st century and good luck to any boxer trying to top that. After the victory Horn defended the title against Terence Crawford who is the number 2  pound for pound best fighter in the world. Although Jeff lost to Crawford his record at the Welterweight division is unmatched. Horn also has victories over former world champions Randall Bailey and Ali Funeka.
Jeff has now moved to the Super-Welterweight division.
https://boxrec.com/en/proboxer/635000
Super-Welterweight– Rocky Mattioli  (64-7-2) years active, 1970-1982, WBC Super-Welterweight World Champion.
Other Contenders; Anthony Mundine.
Born in Italy, Mattioli moved to Australia when he was six. Turning pro in 1970 and in 1977 with a record of 49-3-2, Mattioli travelled to Germany to defeat  WBC Super-Welterweight champ, Eckhard Dagge (20-4-1). Mattioli won the bout with a fifth round ko of Dagge.  After two successful defences, Mattioli lost the title to Maurice Hope in 1979. In 2004 was inducted into the Australian  National Boxing Hall of Fame. He remains the only Australian boxer to win a major world title at Super-Welterweight.
https://boxrec.com/en/proboxer/20665
Middleweight – Daniel Geale (31-5) years active, 2004- 2016, IBO, IBF and WBA Middleweight World Champion.
Other Contenders – Sam Soliman (IBF), Anthony Mundine (IBO), Les Darcy.
With winning three titles in the division and the only Australian born and bred fighter to ever win an unification bout, Geale is easily the best of the division. He first notable bout was with Anthony Mundine to defend his IBO title in 2009, in what was considered the best Aussie v Aussie fight since Lester Ellis v Barry Michael in 1985. Although Geale lost via split decision it didn't deter his career.  His victories in Germany over Felix Sturm (WBA) and Sebastian Sylvester (IBF) were history making, as the feat was never seen before or since in Australian boxing, defeating two Germans on home soil. After a rematch with Anthony Mundine, Geale lost his IBF title in a controversial loss to Darren Barker. But in 2014, Geale did what no Australian boxer has ever done, headline a fight night in Madison Square Garden. Geale was given the opportunity to regain his WBA and IBO titles against Gennady Golovkin. Geale was defeated in three rounds. After a reset fight, Geale once again competed for a world title, the WBC title against then champ Miguel Cotto, but again Geale was defeated. Geale retired in 2016, but remains one of the best of all time and is my boxer of the decade for the 2010's.
https://boxrec.com/en/proboxer/272538
Super-Middleweight– Anthony Mundine- (48-10) years active, 2000 -2019, WBA Super-Middleweight World Champion x 2.
Other Contenders; Sakio Bika (WBC/IBO)  Zac Dunn (IBO) Danny Green (Interim WBC).
Mundine shocked the Australian sporting community when he jumped from professional  Rugby League to boxing with virtually no boxing experience in 2000. Mundine also dropped around 15kgs (35lbs) to start in the 76.6kgs (168lbs) Super-Middleweight division. After only ten pro bouts Mundine received the opportunity of a lifetime with a bout with Sven Ottke, for Ottke's IBF Super-Middleweight Title. Although Mundine had the win in the bag, in the tenth round Ottke caught Mundine with a temple shot and was knocked out before he hit the ground. In an interview after his retirement Ottke states that Mundine was his toughest opponent. In 2003 Mundine won his first WBA title against Antwun Echols via unanimous decision. But lost the title in 2004 to Manny Siaca. In 2006 Mundine fought in the biggest fight since Fenech v Nelson 2 in 1992, when he fought Danny Green in a WBA title eliminator. The fight set a new attendance record and pay-per view buys for an Australian fight. Mundine won the fight via unanimous decision. In 2007 he won his second WBA title, in an epic knockout victory over Sam Soliman. Mundine had four successful defences including a third fight with Sam Soliman and vacated the title to move to the middleweight division.
https://boxrec.com/en/proboxer/14646
Light-Heavyweight– Jeff Harding (23-2) years active 1986-1994. WBC Light-Heavyweight World champion x 2.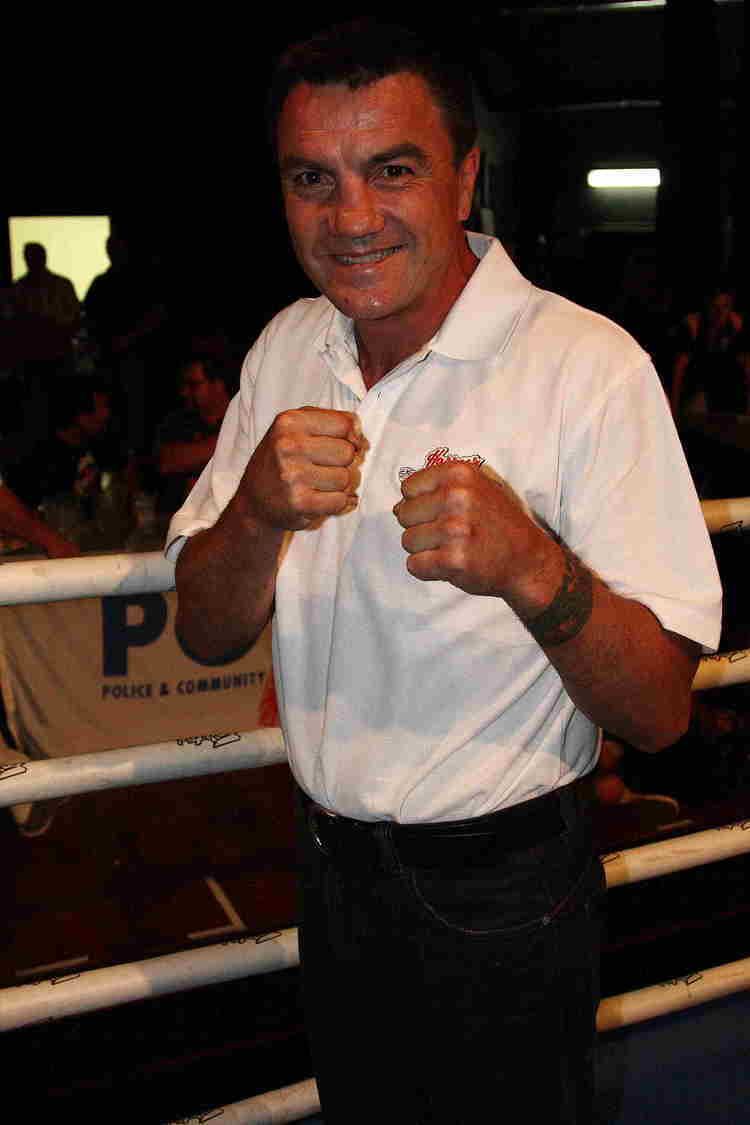 Other contenders; Danny Green (WBA), Paul Briggs, Blake Caparello (IBO) and Glen Kelly
During his reasonably short eight year career, Harding made an impact in the light-heavyweight division, not seen before or since in Australian boxing. Harding earned the Australiasian, OPBF and WBC World Light-Heavyweight Titles and during his first bout with Dennis Andries in 1989 for the WBC World Title, Harding had one of the best come from behind victories in Australia boxing history. Harding knockout Andries the twelve round to earn his first world title. Harding entered into an epic trilogy with Andries that would span over a two year period. Andries won the rematch in 1990, while Harding took out the series two to one in the decider in 1991. It remains the best boxing trilogy in Australian boxing history. After another two successful defences after the third Andries fight, Harding would have a near two year absence from the ring, return to defend his title in 1994 and lose to Mike McCallum. Harding retired after the McCallum fight. Truly he was one of the greatest.
https://boxrec.com/en/proboxer/1846
Cruiserweight – Jai Opetaia (19-0) years active – 2015 to present
Other Contenders – Danny Green (IBO x2), Kane Watts, Mark Flanagan.
Most that known Australian boxing would ask why not Danny Green? I answer with, those who really know Australian boxing, know that only half of Green's fights at crusierweight, were at the full 200lbs limit. The rest were far less than that. His defence against Roy Jones Jr was at catch-weight of 182lbs. So for this reason he gets a mention, plus I also believe Jai Opetaia will be a future champion.
Opetaia has defeated the likes of Mark Flanagan and is ranked 9th with the WBC, 6th with the WBA and IBF and 10th with the WBO. If not for the corona virus pandemic, Opetaia may well already confirmed a world title shot. He is easily one of the top three Australian fighters waiting for their title opportunity.
https://boxrec.com/en/proboxer/719823
Heavyweight– Alex Leapai. (32-8-4) years active -2004 to present.
The heavyweight division is easily hardest one to pick as, there are no real contenders, really the only two are Alex and Lucas Browne, otherwise its way back to the Les Darcy (1910-1916) days and he was a middleweight that fought in the division.
Samoan born Leapai move to Australia was he was twelve and took up boxing with playing rugby union in Brisbane. After a well-established record and being on the WBO rankings for near two years, in 2014 Leapai became the first Australian fighter ever to have a chance at the Heavyweight World Title. Unfortunately for Leapai, is was the best heavyweight of the last generation Wladimir Klitschko (WBA, IBF ,WBO, IBO, Ring and Lineal) Leapai would only last five rounds with the champ being knocked down in the first and twice in the fifth, but it still remains the only time that an Aussie heavyweight has had an opportunity for so many belts. After the defeat Leapai fell into a slum, but still manage to go ten rounds with former WBO Champ Joesph Parker last year at 39 years of age.
https://boxrec.com/en/proboxer/261205
So there you have it, the best boxers Australia has ever produced in each division. Hope you enjoyed the read.